May 18, 1967 ACS reads its First meter for the City of Yucaipa California.
Neighboring communities take an interest in us as we expand our meter reading contract services within the Southern California area.
By the late 1970's, our reputation for dependability and accuracy is well-established beyond our local service area. We are invited to compete for business outside of the Southern California region.
Our founder, Nelson Alexander, solidifies the foundation for future growth.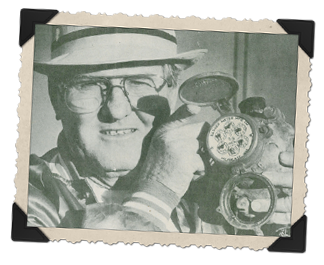 Alexander's expands operations to include two new divisions: the first to serve Central California and the second for our Northern California customers.
Our headquarters then moves to Atascadero California. Nelson repositions the main office to be strategically located equal distance to all three of our main service areas. Nelson's son, Tim Alexander, begins working for ACS.
We reach two milestones in the late 1990's: over 250,000 meters are now under ACS management and technology enters the workplace­ we begin our first touch read routes.
Tim Alexander becomes president of Alexander Contract Services.
We opened our in-house software design studio with a single purpose: to reinvent utility usage data collection by eliminating errors and make data accessible in real time on low-cost handhelds.
Our design studio becomes a corporation known as Datazeo, who releases DZ Reader and CSST hub released to utilities with in-house teams of readers.
Employee Morgen Diaz reads 1,000 meters manually in a single 8-hour day by using our DZ reader software on a low-cost Android device. Data is transferred to our CSST hub in real time.
ACS moves beyond the west coast, and begins providing meter reading services to communities throughout North America. Datazeo also provides software services to international customers.